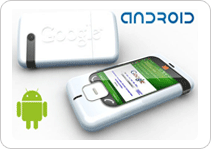 Softech Products designs almost all kind of applications in Android Platform. Android applications are on peak demand nowadays because of the growing demand of the android installed smartphones.
Android is software as well as an operating system. It is one of the best innovations or creativity of the modern technology. It's very unique in functionality as it is designed on a very different platform that is Linux operating system.
Our tech experts who are engaged in the android application development understand the unique framework of the android operating system, so they design its applications which are compatible to all android installed devices from all points of view.
Our android application developers have expertise in using android SDK, which is a main platform to develop smart android applications.
So if you have any idea, and you are looking for an android application developer, just come forward as Softech Products is always ready to serve his clients with his expertise in developing all kinds of android applications.