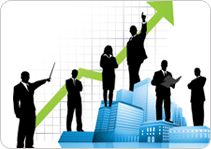 Softech Products delivers effective and affordable SEO Services as well as local search engine optimization services.
Softech Products is highly focused on Ethical, Organic and Professional search engine optimization.
Our SEO services comprises of strong Link Building strategies, One way link building services, reciprocal link building services and Three way link building services and local seo services. Our company has efficiency and industry reach to meet each individual company or business needs.
The motive of your website is not just to look attractive but also should be visible to the target visitors. In co-ordination with a good web design, the most relevant keywords should be used to increase the search engine ranking. Here comes the need of Softech Products to play the vital role for your business websites.
Most SEO services companies try to charge customers extortionate fees and try to justify it with complicated "technical jargon".
Here at Softech Products, we offer a range of price plans. So whether you are just looking for a bit of increased traffic, or a comprehensive SEO strategy, We can help...

We will analyze a host of factors to give you a complete diagnostic on the health of your site with Review Report.
Areas looked at are indexed pages
Research keyword,Competitor Analysis
Unique Meta Data each pages(Title, Description & Keyword)  
H1 or H2 Tag Optimization, Content Optimization  
Footer text and footer link Optimization, site back links
URL structure modification(if necessary)
robots.txt adding
Google XML and HTML Sitemaps
'Bread Crumb' navigation Inclusion (if necessary)
Optimization of internal link structure
Google map Adding in contact page
Optimize div tags if website is a div based
404 pages Adding
301 Permanent redirect
Footer text and footer link Optimization, site back links
Update Contact us page.
Fix Broken links (If found any)
Updating/Modifying Interlinking (Making Keyword Rich)
Content modifications and additions
Duplicate content checking
Search engine spider simulation
Design modification
Content modification
Keyword relevancy modification
MOD rewrite for dynamic sites
Canonical issue Solve (open site with www.domanin-name.com )
HTML Code optimizing  and adding headings and hyperlinks.
Image Alt Tag Optimization
Inclusion or modification of Resources page
Page will be added for Link Development
Search engine support
Look no-follows link and then solve
Local keyword targeting
International keyword targeting
Google Webmaster central setup
Set Google Analytic
Product Google base and Many More.

We will give you below links Per Month by following Google natural rules:
15-20 Article approved link from Quality Site
15-20 Directories approved link in Relevant category
15-20 Blog Commenting Link
10-15 Social Network Book Marking ( Do follow ) link
5 -10 Link from relevant website
Social Media Optimization( SMO) like Twitter, Face Book, linkedIn
We have Several Plans to choose from Mail us now,For a Customised Quote for your requirement.